Creative Health can be defined as a belief that art and creative expression have a profound influence on people's wellbeing. It can also help to address health inequality and make for a better society.
Our research team of Sophie Boyd, Celia Duffy, and Laura González are trying to build up a picture of Creative Health work undertaken by members of the RCS community over the past five years. In doing so, we will explore how members of our community have worked to positively impact health and wellbeing in society and within our community here at the RCS. 
We will be gathering and mapping the wealth of formal and informal work, such as published research, practice-led projects, performed work, course modules, and staff and student wellbeing initiatives in order to produce a report on the scale and impacts of creativity and wellbeing at the RCS. We will also be talking to staff and students to learn about their work in this field and how we can grow and support impactful research, teaching, and practice in the future.
Creative Health work might include (but is not limited to) practice, outreach work, research, or teaching. 

For example, it could be to do with:

 -  Undertaking practice that aims to have positive impacts on wellbeing and health for wider communities or practice that is aimed at specific health conditions.

- Researching the impacts of arts, creativity and health and wellbeing.

- Teaching modules that include Creative Health elements or student placements in health and wellbeing settings.

- Working creatively to foster wellbeing within the RCS community.

- Supporting your own health, wellbeing and creativity. 
If you would like to get involved or know of a project we should include, please complete this short form.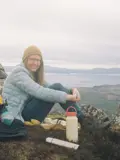 Dr Sophie Boyd
Dr Sophie Boyd is an interdisciplinary researcher and practitioner specialising in the health and wellbeing impacts of group singing. With a particular research interest in singing and breath, Sophie was awarded a PhD from the University of Glasgow in 2021 for her practice-led Human Geography thesis 'Singing bodies: cultural geographies of song and health in Glasgow'. Sophie has been working on the Royal Society of Edinburgh funded project Scotland's Singing for Health Network at the RCS, where she has been developing accessible knowledge exchange to communicate the role of singing for health and the need for sustainable social prescription.
Sophie is a strong advocator for making arts and health more accessible. She is excited to undertake this Creative Health research project to learn from colleagues about the role that arts and creativity play in supporting the health and wellbeing needs of the nation, and to reflect together on the role of creativity in supporting the wellbeing of the RCS community.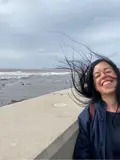 Professor Laura González
Professor Laura González is an Athenaeum Research Fellow at RCS. She has a long standing career of practice-led research in the creative disciplines, focusing on body-based practices, particularly breath, and the medical humanities.  She is the founder of the Scottish Breath Network, an initiative funded by Creative Scotland. Among other publications, she has authored and co-edited 'Madness, Women and the Power of Art' (Interdisciplinary Press, 2013), 'Art of Care' (Scottish Journal of Performance special issue, 2018) and 'The Hysteric: Outline of a Figure' (Routledge, 2023), examining art practice, mental health and wellbeing. She is also a wellbeing session provider at RCS, teaching yoga to staff and students.
Laura believes creative health is key to us as artists and to the form our work takes. It has a significant impact at individual, group and planet levels. She is very excited to find out what the very creative and caring community at RCS has been doing to enhance their practice and support their health and wellbeing.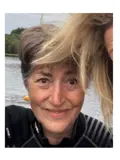 Professor Celia Duffy
Professor Celia Duffy is the Senior Fellow in Knowledge Exchange at the Royal Conservatoire of Scotland. Celia is an avid collaborator, coach, mentor, facilitator, singer and pianist. As the first Director of Research and Knowledge Exchange at the RCS she played a key role in the conservatoire's development as a research institution and the major reform of its undergraduate curriculum.
Always having pursued a 'squiggly' career ranging from mainstream music academia, technology-assisted learning and research (when it was new and more interesting), corporate training and institutional Senior Management she now enjoys working as a freelance researcher, expert reviewer and consultant.
The focus of her current work is the need for rapid evolution and change in higher music education and driving institutional innovation to achieve that - including maximising the potential of knowledge exchange and innovation.
Celia is excited about this project in Creative Health as it aligns with her values and experience as a musician, particularly as a song leader in a community setting. Her own experience in a 'natural voice' singing group after a grim cancer diagnosis 10 years ago was transformative.
Sign up for our newsletter
Sign up for our newsletter to keep informed about Innovation Studio.